---
The NHS is bracing for a weekend of chaos after a cyberattack forced hospitals to close wards, turn away patients and delay treatment across the country.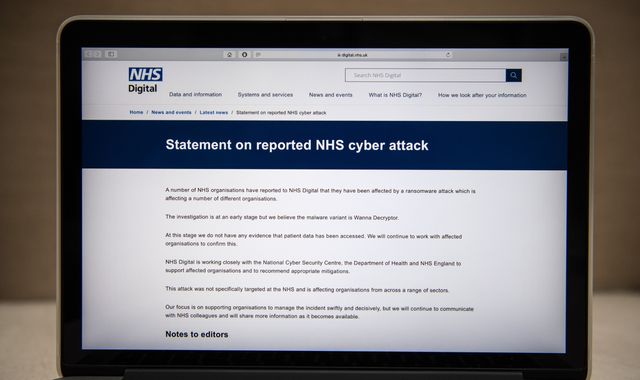 At least 30 health service organisations in England and Scotland were affected by the hack attack, while others shut down servers as a precautionary measure to avoid contagion.
Across the world, dozens of countries were hit by the attack that locked up computer and held users' files for ransom.
International shipper FedEx, Spanish telecommunications firm Telefonica and Portugal Telecom were affected, while Russia appeared to be the hardest hit.
By Kaspersky Lab's count, the malware struck at least 74 countries.
:: Hacking for cash: Ransomware threats on the rise
An alleged hacker unconnected to the incident told Sky News the attack could spread to nearly every country in the world.
"I'm sad to say that this is probably only just beginning; administrators are in for a very difficult weekend," Lauri Love said.
"We should expect to see this in almost every country in the world."
"If you've been infected, not only have your files been encrypted and you're being held to ransom, but your machine is being used as a zombie to attempt to affect other machines on the internet.
"This means it will tend to grow at an exponential rate until it runs out of vulnerable hosts to infect."
The National Cyber Security Centre has launched a major operation in response to the attack, which it said targeted "thousands of organisations and individuals".
"We are very aware that attacks on critical services such as the NHS have a massive impact on individuals and their families, and we are doing everything in our power to help them restore these vital services," said Ciaran Martin, the body's chief executive.
He added teams were "working round the clock" to restore service and contain the damage.
Mr Martin urged the public to reduce the risk of an attack by making sure the security software patches are up to date, by running proper anti-virus software and, most important of all, by backing up data.
"You can't be held to ransom if you've got the data somewhere else," Mr Martin told Sky News.
Across Britain, as the magnitude of the attack was becoming apparent on Friday afternoon, non-emergency procedures were suspended and ambulances diverted.
:: NHS cyberattack: Full list of organisations affected so far
Patient Tom Griffiths, who was at at St Bartholomew's Hospital in London for chemotherapy, said several cancer patients had to be sent home because their records could not be accessed.
"Both staff and patients were frankly pretty appalled that somebody, whoever they are, for commercial gain or otherwise, would attack a health care organisation," he said.
Once the crisis is brought under control, doctors will have to grapple with a backlog of cancelled appointments and surgeries.
For a service already under strain, it is a further setback.
Theresa May said the Government is not aware of any evidence patient records had been compromised.
In Scotland, 11 geographical health boards, including the ambulance service and acute hospital sites, saw their IT networks infected, and First Minister Nicola Sturgeon has chaired a resilience meeting on the issue.
NHS Greater Glasgow and Clyde, Scotland's biggest board, as well as NHS Tayside, NHS Dumfries and Galloway and NHS Forth Valley said some of their GP surgeries had been affected.
NHS Western Isles, NHS Fife and NHS Borders also said they had, to some degree, been disrupted.
:: Hackers' hitlist: Cyber criminals and their targets
NHS Digital, which runs the health service's IT systems, said it had identified the malware software known as WannaCry, also known as Wanna Decryptor, which appears to be requesting $300 from victims to decrypt their computers.
The malicious software behind the attack appeared to exploit a vulnerability in Microsoft Windows that was supposedly identified by the National Security Agency.
The security holes were disclosed several weeks ago by the group The Shadow Brokers.
Shortly after that disclosure, Microsoft announced that it had already issued software patches for those holes.
But many companies and individuals haven't installed the fixes yet or are using older versions of Windows that Microsoft no longer supports and did not fix.
The hack also exposed serious vulnerabilities at the NHS.
Last year a Sky News investigation discovered that NHS trusts were putting patients at risk, with seven trusts spending nothing on cybersecurity in 2015.
(c) Sky News 2017: NHS braces for weekend of chaos after cyberattack
---