---
He is one of the most highly-rated young goalkeepers in the world, but Gianluigi Donnarumma's future at AC Milan again appears to be in doubt. What has gone wrong for the teenager and what will happen next? James Walker-Roberts takes a look…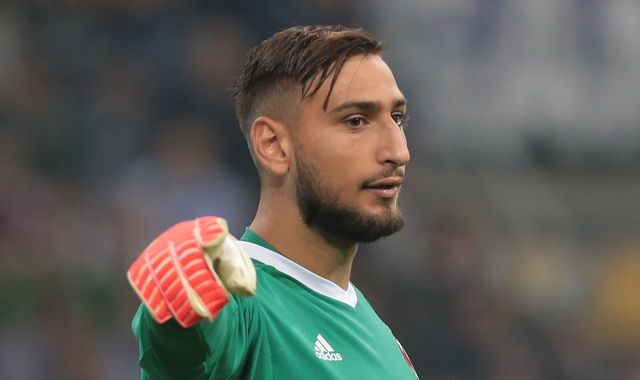 The 80,000 capacity San Siro was not even half full. Not even a quarter full. In fact only around 9,000 supporters watched AC Milan's Coppa Italia victory over Verona on Wednesday. But the message delivered by those in the Curva Sud was impactful all the same.
"Psychological violence by giving you €6million-a-season & signing your parasite brother? It's time to leave… our patience with you is over!" read the banner unfurled across the pocket of supporters behind the goal.
The message left Gianluigi Donnarumma in tears. He was consoled by team-mate Leonardo Bonucci on the pitch and in the changing room, while head coach Gennaro Gattuso said afterwards that "people are painting a kid as if he's a monster and he doesn't deserve it."
So how has it come to this?
Signed by Milan as a 14-year-old, Donnarumma made his professional debut for the club before his 17th birthday. Since that moment there has always been high expectation around his future. He has been known as the "heir to Gianluigi Buffon", and the Juventus and Italy legend himself has said he expects Donnarumma to have an "extraordinary career". After his Milan debut he earned his first Italy cap at the age of 17 years and six months. He was Milan's golden boy.
Then, in the summer, Donnarumma, who is managed by super-agent Mino Raiola, decided he would not be renewing his AC Milan contract, which expired in 2018. He also decided he would not be finishing his studies, favouring instead a holiday to Ibiza after the Under-21 European Championship even though his exams had been specially delayed by the Italian Ministry of Education.
"We have to move on; Milan moves on," was the message from club director Marco Fassone. Yet, having seen how his decision angered Milan fans, some of whom threw fake money at him at the U21 Euros, Donnarumma eventually did sign a new deal. And then he quickly started work on winning the fans back.
"I say sorry to the fans, I repeat that I have never had the intention of betraying them and I thank them for all the support they have given me in these two seasons. I was raised at this club and I never had any doubts in my head about staying," said the 18-year-old, whose new deal reportedly saw him become the third highest-earning goalkeeper in Europe, and who also saw his brother, Antonio, join the club as part of the agreement.
That latter point came to the fore this week as AC Milan fans again turned on Donnarumma in the wake of reports that he again wants to leave and is 'demanding' the club tear up the new contract he signed in the summer. Part of the basis for wanting an annulment on the contract is that Milan apparently failed to file the release clause demanded by Donnarumma and Raiola with their signatures. The release clause is reported to be €70 million if Milan are in the Champions League and €40m if they are not.
And there's another point. "Mino Raiola hasn't got any money out of it yet, so he is trying to sell him," says Sky in Italy's Valentina Fass. "To do that he is trying to say 'when you made him sign the contract he was not in a psychological good moment, you forced him to sign. You made a young guy sign a contract when he was not psychologically able to sign for himself'."
Milan responded to those suggestions by saying they have always had an "open and positive dialogue" with Donnarumma. And, in an Instagram post on Thursday reflecting on the previous night's events, Donnarumma wrote: "It was a bad evening, one I did not expect. I have never said or written that I suffered moral violence when I signed the contract. Despite everything, I look forward with my head focused on the next game. Forza Milan!"
Unsurprisingly, there are fans who believe Raiola is responsible for driving a wedge between Donnarumma and the club. It was even reported in June that Donnarumma had decided to drop Raiola and hire his father Alfonso as his agent. Milan fans watching Donnarumma play at the Euro Under-21 Championship made their feelings clear. "If you have Milan in your heart, change your agent," read a banner during Italy's game against Czech Republic.
Donnarumma's response on Twitter? "#Donnarumma #Raiola Yesterday, Today and Tomorrow!"
While it was a clear statement of intent from the goalkeeper, there have not been so many of those on the pitch this season. For a Milan side who have been well below their expected level after a summer of heavy spending, Donnarumma has not delivered his best.
"He is a great talent but at the moment he doesn't seem to have the right mind for it," says Valentina Fass. "For example, while Buffon trains in a very meticulous way, even now at the end of his career, you can see the difference when you look at Donnarumma.
"When Milan played Juventus this season it was so clear the difference in the way the two goalkeepers were training. Donnarumma's physique is a bit more bulky and he was not doing as many exercises while Buffon was so precise and complicated.
"He really looks like when he was playing in matches he doesn't feel like it. There has been talk about him being very sad with everything that is going on."
Perhaps part of his sadness comes from Milan's struggles this season. After spending over £175m in the summer, Milan are seventh in Serie A, without a win of note against a major rival this season. They also endured the ignominy of becoming the first side to fail to beat Benevento a few weeks ago when they conceded in injury-time to a header from a goalkeeper.
The poor form has led to head coach Vincenzo Montella being replaced by club legend Gattuso, who has been quick to lay down a marker. Known for his aggressive nature as a player, Gattuso was recently caught shouting at Donnarumma during a game: "If you do not do what I tell you, I will destroy you in the week."
Then there has been Milan's financial troubles. When they were sold to a Chinese consortium earlier this year, part of the financing came from a US hedge fund, Elliott Management, and that needs to be repaid by October 2018 otherwise Elliott would assume ownership of the team. Milan's financial statements also show their cumulative losses to be nearly £446.8m over the last 11 years. All this could land the club in Financial Fair Play hot water, and Milan could face restrictions over transfer spending, player wages, and squad sizes for European competitions.
With that as a backdrop it is perhaps not surprising that the Donnarumma contract stories have emerged just a few weeks before the January transfer window opens. Having only appeared in the Europa League this season, the goalkeeper could still play in the Champions League for a new team.
"It's a very strange situation and it's difficult to know what will happen," says Valentina Fass. "The feeling with Donnarumma is that he has his agent who just wants to make money out of him and is hoping to sell him to a team like Paris St-Germain and get a big percentage.
"The fans are also upset that AC Milan are not doing very well and partially it has been Donnarumma's fault because he hasn't done very well. And they are a bit tired of him being so precious. He was a young talent but he is not doing well this season and people can see he is not putting the effort in."
Can the relationship between Donnarumma and the fans be healed again? All signs at the moment point to an exit, even though Milan sporting director Massimiliano Mirabelli has said the club have "no intention of selling".
"If he wants to leave, he has to beg us, but I spoke to him and he never asked that," he added. "He loves Milan. We will protect Gigio [Donnarumma] and Milan from some gentleman [Raiola] who is trying to damage our club."
Another difficult decision appears to await Donnarumma.
(c) Sky News 2017: Gianluigi Donnarumma: What now for AC Milan's 'golden' goalkeeper?
---