Philadelphia guard Jimmy Butler and Brooklyn forward Jared Dudley were ejected during the third quarter of Game 4 between the 76ers and Nets on Saturday after a skirmish between the players spilled into the stands.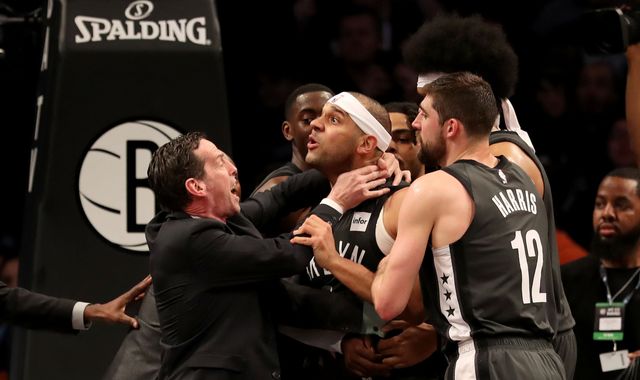 Dudley took exception to 76ers center Joel Embiid's hard foul on Jarrett Allen with 7:42 left in the third and proceeded to push Embiid. From there, numerous players on both teams became involved in a scuffle underneath the basket that caused fans to scurry from their seats.
Philadelphia's Ben Simmons got mixed up with Dudley as well during the melee.
After a long video review by the officiating crew, Butler and Dudley were given technical fouls and left the game, while Embiid was given a flagrant 1 foul.
When asked about the incident after the game, Embiid called Dudley "a nobody".
"When opponents try to do stuff like that, that's just to get us out of the game," he said. "I'm too valuable for my team. That's why I didn't react. I did not do anything, and I did not think that was a flagrant foul because I played the ball, too. But in that type of situation, I just got to stay composed and be mature."
Dudley was opposed to both his and Butler's ejections, calling the officials' decision "ridiculous". He also argued the incident was a product of "something that's just been escalating for a while", after Embiid was called for a flagrant 1 in Game 2.
The Sixers went on to win 112-108 to take a 3-1 series lead with Game 5 looming on Tuesday in Philadelphia.
Click on the video above to see the incident for yourself…
(c) Sky News 2019: Watch as Jimmy Butler and Jared Dudley are ejected after melee spills into stands
---