---
Italy has been added to the UK quarantine list, meaning travellers returning from the country will have to self-isolate for 14 days.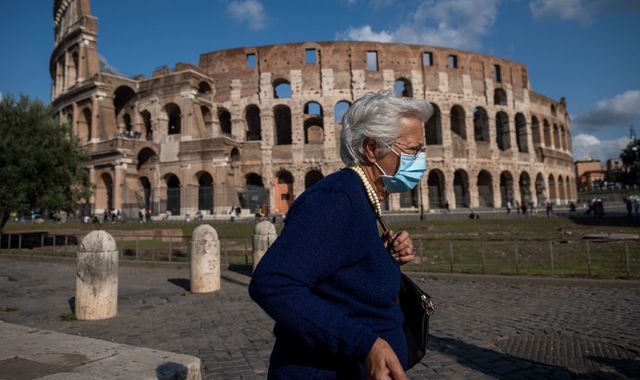 The measure will come into force at 4am on Sunday.
Transport Secretary Grant Shapps has also announced that people arriving in the UK from Vatican City state and San Marino will have to isolate.
Crete has been removed from the list of places with restrictions, so people arriving from the Greek island will no longer have to isolate.
The move was announced after Italy recorded its biggest single-day jump in infections since the start of the outbreak, adding another 8,804 cases.
Yesterday it reported 7,332 cases.
This brings its seven-day rate of cases per 100,000 people to 64.
The UK's case rate currently stands at 166.
The figures are based on data collected by the European Centre for Disease Prevention and Control.
A rate of 20 is the threshold above which the government considers triggering quarantine conditions.
The latest number of people in intensive care with coronavirus in Italy is 586.
There have been another 83 COVID-related deaths, jumping from 43 yesterday. At the peak of the virus, Italy experienced more than 900 fatalities a day.
The removal of Italy's exemption is a further blow to the UK's travel industry, as it was one of its last big markets without a quarantine requirement for returning holidaymakers.
Last week Italy introduced compulsory coronavirus testing for arriving UK visitors.
Arrivals from European countries such as the UK, France and Spain must provide evidence of a negative test taken in the 72 hours prior to travel.
Visitors unable to provide proof of a negative result at the border have to take a test in Italy.
Mark Tanzer, chief executive of travel trade organisation ABTA, expressed fears on Wednesday that more travel firms could go bust in just weeks due to the pandemic.
He said at least 20 travel companies with UK operations have already collapsed since March.
Prime Minister Boris Johnson has previously said the government would be "absolutely ruthless" about adding countries to the quarantine list, "even with our closest and dearest friends and partners" – such as France and Spain, which are both on the list.
Are you in Italy and affected by the change? Get in touch with Sky News:
(c) Sky News 2020: Coronavirus: Italy, Vatican City and San Marino added to UK's quarantine list – Crete is cleared for travel
---