---
A senior official at a Premier League club says players should not receive their wages if they refuse to return to training.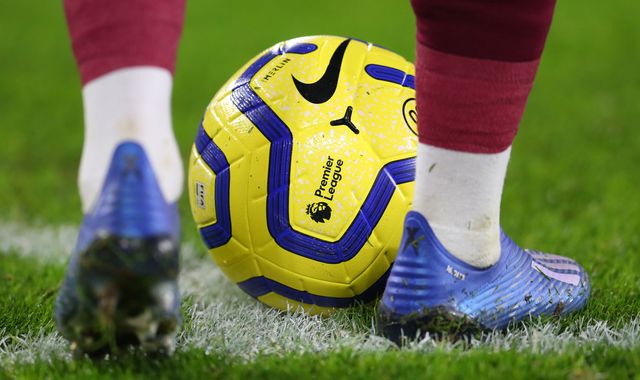 The 20 clubs are set to agree at their shareholders' meeting on Monday that players can start training in small groups in strictly-controlled conditions.
But one club official told Sky Sports News if players are concerned and do not want to train, then clubs should not pay their wages.
"I really don't think they should be paid," the club official said. "We are not sure what the situation is under their contracts at the moment.
"If you asked people in the street would you train and play football against people being tested twice a week, would you do it for £60,000 a week, they'd all say yes. It makes me very cross."
Some players may have health issues or have people at risk living with them, while official data has shown that BAME groups are more vulnerable to Covid-19 than others.
As for how Monday's meeting may pan out, one Premier League club owner says the vote could be unanimous in favour of returning to phase one training.
He says he expects "most, if not all" of his players to return this week, although he estimated that up to 50 per cent have concerns about moving onto full contact training and playing games again from the middle of next month.
"I would hope that we can start small group training this week," the club owner said. "The plan is then to move onto full contact training after a week.
"I'm expecting most, if not all our players back this week, but a lot of them are worried about playing games and contact training. I'd say it's maybe as high as 40 or 50 per cent of them.
"All our players were tested this weekend with a view to training on Tuesday after we get the results late on Monday."
In order to prepare for training in small groups to start again, Premier League clubs have been:
Disinfecting all training equipment including balls at their training grounds.
Delivering training kit to players so they can arrive ready to train.
Marking out designated parking spaces for players with gaps of three spaces between each car.
Allocating players to different groups of four or five in which they will train on designated pitches.
Drawing up lists of staggered arrival times for different players.
Drawing up lists of club employees who will be allowed at the training ground.
Players are aware of the strict rules which will be in place for phase one training.
That means no tackling or spitting and maintaining social distancing from everyone else at all times.
Many players are believed to be encouraged by what they saw after watching games being played again in the Bundesliga this weekend.
"It showed what's possible," the owner said. "But the danger for me is that we start again and then the season is abandoned on medical grounds."
Government making 'good progress'
Culture Secretary Oliver Dowden says "good progress" is being made as football looks to return by mid-June.
"I had some very constructive discussions on Thursday with the FA, the EFL and the Premier League," Dowden told Sky News.
"We are working hard with them to try and get it back, aiming for mid-June, but the number one test is public safety.
"They, like a lot of other sports we're looking at returning behind closed doors, have met with Public Health England several times to look at the safety.
"If we can sort that out then we will look to resume by mid-June. We're making good progress."
Deeney: When questions can't be asked you start to panic
Watford captain Troy Deeney is worried there are no clear and safe measures to protect footballers' families if they return to playing.
Speaking on Good Morning Britain, he said: "I think the concern is very much that Phases Two and Three have not been clearly laid out.
"There have been a lot of what I would class as very simple questions that haven't been answered.
"For example, we can talk about the BAME situation where government guidelines are saying that it's four times more likely for people of colour to get the illness and twice as likely for people to have lasting illnesses.
"But there's no extra screening, no additional checks being done on any players because it costs too much money.
"So simple things like that where people are asking questions and they are not being answered. When people can't answer the questions you start to panic and start to worry."
(c) Sky Sports 2020: Premier League return: Players should not be paid if they do not train, says club official
---