App
Bay Trust Radio launches brand new app
Bay Trust Radio (Hospital Radio for Morecambe Bay) have launched a new free app so patients, staff and visitors of The University Hospitals of Morecambe Bay NHS Foundation Trust can now enjoy the service after they leave hospital.
The application, which has been developed by MyRadioApps, is the replacement for our old BTR app which has been available since 2012, when Bay Trust Radio was one of the first hospital broadcasting services to stream on the platform.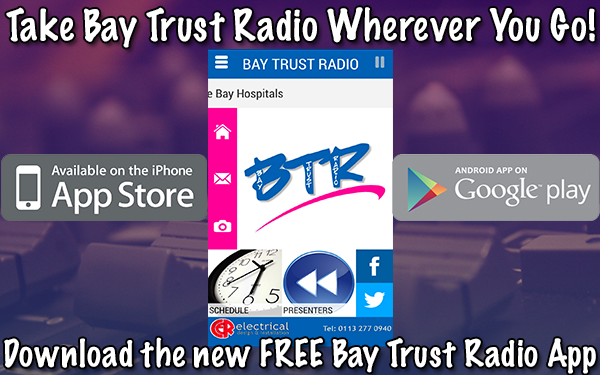 The new app is available on iOS & Android smartphones and tablets, and features listen live facility, schedules, listen again service, access to our mobile website and in-app message service, including picture sending and emailing directly to the studio. You can also access our Twitter and Facebook pages through the app, which means you can keep up to date with everything happening at the station whilst enjoying the best variety of music.
Station President, John Williamson said, "We've been looking at getting a new app for the station for a while now, and we are very happy with the results from MyRadioApps! This new app is available to both iOS and Android platforms and brings a much better mobile listening experience with new features, a high quality stream and all in a clear-designed layout. This is Bay Trust Radio showing how it can embrace and stay up to date with technology as it advances."
The application is free of charge and can be found on Apple's App Store and the Google Play Store by searching 'Bay Trust Radio'.